Welcome to B1 COACHING
B1 Coaching was founded by man of distinction and excellence Onyi Anyado. The thirty-something year old Life Coach started the company to help others to achieve their vision and goals using a range of techniques including goal setting, time management and confidence building. What differentiates B1 Coaching from other similar companies is that Onyi lives and breathes what he teaches.
He is an excellent person, a person of great character, a person of distinction and he embodies this in everything that he does. Onyi's Life Coaching flows from his head and heart into the minds of others, creating a distinct, peculiar people that are willing to settle for nothing less, than their personal best.
Onyi has a range of qualifications to back up what he teaches, and his achievements include a diploma in Management and Marketing and qualifications in Counselling.
On the 28th of June 2014, Onyi launched his entrepreneurship and leadership masterclass titled: How to become an entrepreneur of distinction™.
Onyi is currently delivering his entrepreneurship and leadership masterclass titled: How to become an entrepreneur of distinction™ which covers topics; vision, excellence, creativity, goals, determination and time management. During his masterclass, Onyi also gives each attendee strategies and practical coaching steps which assists them to achieve their short, mid and long term personal and business visions. To register for Onyi's masterclass, please send your information to info@onyianyadomediahouse.com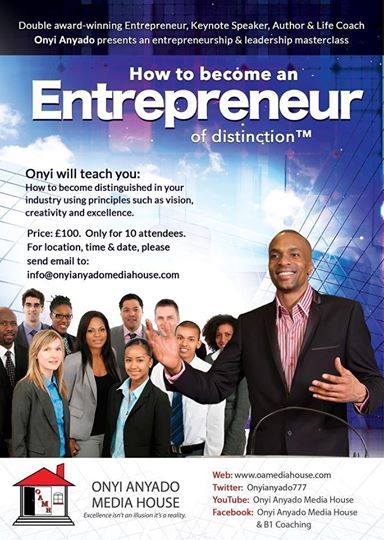 Onyi has also written two ground-breaking and pioneering books titled Hitting The Target: A 12 Month Guide To Distinction and The Doorway To Distinction: 200 Quotes To Inspire You To Reach New Levels Of Excellence.  For more information on his books and other products and services he provides please go to www.oamediahouse.com
Onyi is currently delivering his Life Coaching workshops on a national tour to universities in the United Kingdom called Your Time Is Now: How To Become a Student of Distinction™. His vision is to coach, teach, inspire and equip students to excel in commercial, corporate and professional arenas.
The University of Hull (Women Empowered Society) 28/11/14
York Entrepreneurs Society  (The University of York) 20/11/14
The University of Essex Nigerian Society (University of Essex, Colchester) 6/2/14
Liverpool Entrepreneurs Network Society (University of Liverpool) 5/12/13
Southend Enterprise Society (University of Essex) 1/11/13
Brunel Entrepreneurs Society (Brunel University) 15/1/13
South Bank Entrepreneurs (South Bank University) 7/11/12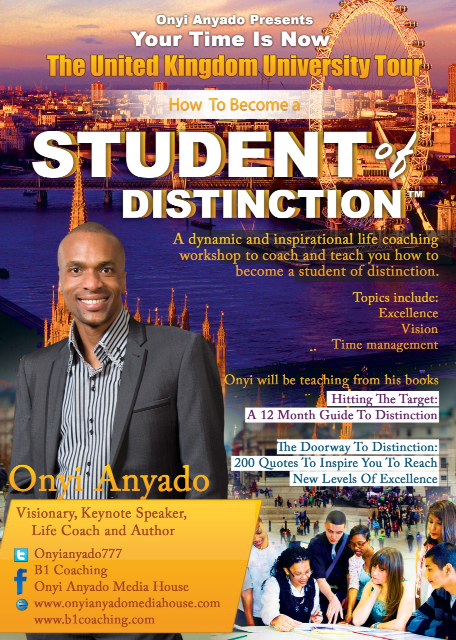 If you would like Your Time Is Now: How to become a student of distinction™ Life Coaching workshop to be delivered at your university, please send your full information to info@b1coaching.com
Latest News
In 2012, I self-published my second book from my distinction legacy titled; The Doorway To Distinction: 200 Quotes To Inspire You To Reach New Levels Of Excellence. The Doorway To Distinction is a ground-breaking and pioneering book because no author in the history of literature has written a book with 200 original quotes and teaching which inspires, […]
©2018 B1 Coaching Ltd. All rights reserved.
Site Designed by Divinity Media